The 2006 Bahamas Cruise
Cruise Line: Royal Caribbean
Ship: Sovereign of the Seas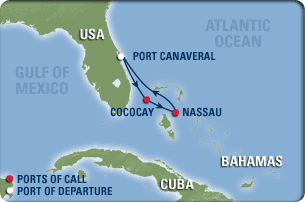 Monday, 27 Mar: Depart Port Canaveral, FL (1700)
Tuesday, 28 Mar: Cococay, Bahamas (0800-1700)
Wednesday, 29 Mar: Nassau, Bahamas (0800-0001)
Thursday, 30 Mar: At Sea
Friday, 31 Mar: Arrive at Port Canaveral (0730)

Well, another cruise is in the books for us. I'm telling you, if you have never gone on a cruise, you really need to do it. No other vacation even comes close to the good times and relaxation you will find on a cruise. Although, there were a couple of "lessons learned" on this particular cruise.
#1: If you sail on the oldest ship in the fleet, expect some minor difficulties. Minor being, batteries in the remote were dead and the auto wake up call service on the phone didn't work. Although, the batteries worked fine after rotating them and a call to the Guest Relations desk set our wake up call. The only major problem we had was our toilet didn't flush for the first 4 hours we were on the ship. Now, when you have a pregnant wife, that is is a MAJOR problem. The vacuum system was shut down for a short while, so that's why it didn't work. But, when it was turned back on, ours still didn't work. We ran into our Stateroom Attendant as we were headed to Guest Relations to talk to them about it and she took care of calling Maintenance right then. Within the hour, our toilet was fixed. The only reason I mentioned the remote and wake up service, was we noticed all 3 within the first 5 minutes of being in the room. After that five minutes we were already starting to wonder what we had gotten ourselves into on this ship.
#2: If you vacation during a time when people are "supposed" to vacation, don't expect to run into the same nice, "we're just happy to be here" attitudes you run into when you vacation during the "off season." Explanation: Normally, we vacation the third week in September in conjunction with our Wedding Anniversary. During that time, the only people vacationing are people that want to go on vacation. School is in, work is heading towards the end of the Fiscal Year, etc. So, these are people that are on vacation to just relax and have get away from it all. This year, we went during Spring Break. This is the time of year that people feel like they HAVE to be on vacation because the kids are out of school. That little bit of difference makes a HUGE difference in people's attitudes. We ran into more rude people that are in such a hurry to do everything from eat, to get to the show, to get on and off the ship. None of these people took on the relaxing, vacation attitude. It was amazing how different the people were during this time of year. I think we'll stick to our normal time from now on.
With all that said, we still had a GREAT time. Although there were minor difficulties with the room and difficulties with other vacationers, the Staff on the Sovereign were what we have become accustomed to on any Royal Caribbean ship: They were AWESOME!! We have NEVER had any bad experiences with any Royal Caribbean employee and this trip was no different.
If you aren't interested in the story, click here for the pictures.
There is also a link to the pictures page at the end of the story.
Now, on to the trip:
Sunday, 26 Mar 06: We left our house around 12:00 pm for the trip down. This one was going to different because it wasn't just Heather and I this time. My sister (Leslie) her husband (Dale) and two kids (Logan and Alyssa) and my Mom and Dad were also going to be on this cruise. The kids were on Spring Break, so we all decided to cruise together. Mom and Dad left around 10:00, Leslie and her gang left around 11:00 and Heather and I left around 12:00. None of us like to rush, so we decided to go down the day before, stay the night in the area and take a short drive to the Port the morning of the cruise. So, we all stayed in a hotel in Orlando for the night. After we all arrived an checked in, we went for dinner around 6:00 pm. Leslie and Dale took us to Landry's Seafood House. Great food. Of course, I'm not one for paying 70 bucks for a meal for two, but even so, it was a very good meal, and, we're on vacation, so who cares, right? After eating, it was back to the hotel for the night.
Monday
, 27 Mar 06: Up at 5:30 am. Couldn't sleep. I read my book until Heather woke up and then we started to get ready for breakfast. Someone had read on the sign that breakfast was served until 10:00, so around 9:30 we headed down there. What they didn't read was that time was from Saturday and Sunday. Mon-Fri was 6:30 to 9:00. So, we missed it. No big deal, we'd just hit somewhere else on the way to Port Canaveral. The family left together to head to P/C around 9:30. Since it was only about a 45 minute drive and we couldn't board the ship until 12:00, Heather and I decided to lag behind and go eat some breakfast instead of going there that early. We hit Denny's across the street from the hotel and then headed to PC. We were going to get there about 11:15, but I figured there would already be a line to drop off luggage and by the time we got through that, parked the car and in-processed, it would be well after 12:00. Yeah. We got there and there was one other car in front of us at the baggage drop off. That took a a total of 5 minutes. We paid our parking fee (10 bucks per night the car is there) and then headed to the terminal. There were very few folks and I think we stood in line for a total of about 6 minutes before we were at the counter. As we were standing in line, I looked back and saw my entire family filling out paperwork. Since I got my reservation a different way, all of our paperwork was sent to us prior to the cruise. So, it was all filled out before we got there that morning. Everyone else in the family had to fill it our after they arrived at the terminal. After 15 minutes in the terminal, we were in processed, had out Sea Pass card and were waiting to board. The ship was late arriving into port, so they were running a bit behind schedule. But, around 12:15, we started boarding. We boarded and head to the Windjammer, since the rooms wouldn't be ready until 1:00 pm. After everyone had a snack, we headed to the rooms to check them out. When we books on the "Sovereign of the Seas" we didn't realize it was next to the smallest ship in the fleet. Nor, did we know it was the oldest. (Side note: If you ever catch a show on The Discovery Channel called: "Cruise Liner: A Ship Reborn" the show shows the 28 day total interior renovation of the Sovereign. Very interesting show) When we walked into our room, we were kind of taken aback. The was the smallest room we had ever had on any cruise liner. And this was supposed to be the "Superior Oceanview Stateroom." The window wasn't more than a port hole and there was no room to walk around the sleeping area as had been in past staterooms. The shower, on the other hand was the biggest shower we had ever seen on a cruise ship. Most have round showers that are barely big enough for one. This was rectangular that could easily fit two, maybe three if none were overweight. Of course, this is also when we noticed the remote didn't work, the wake up service didn't work and the toilet didn't flush. But, as I noted, everything was working by the day's end. We walked around the ship some and got our bearings. The ship was very small compared to our others and it didn't take long to find everything.
16:30 - we had the muster drill. (Life jackets, show up at your emergency stations, roll call, etc. Same 'ol, same 'ol.
17:00 - We pull out of port. Heather and I are on Deck 11 watching Port Canaveral move away. After we are out to sea, we head back to the room to see if the toilet is working. Nope. Heather takes a nap while I start on my journal and pack my scuba gear for the dive tomorrow.
18:00 - We have toilet!!!
19:00 - We go to the Follies Theater for the Welcome Aboard Show. Heather has a pregnant moment and starts to cry during YMCA. Of course, any time I subjected to the Village People's "YMCA", I feel like crying myself. Her "moment" only last about 20 seconds and then she's back to normal. Hormones. They bring out a comedian and he's pretty good. Kids are in the audience, so it's kept on a family level. After the show, we head to our first dinner on the Sovereign. We have Jun and Laslo as our Waiter and Assistant. Both very nice guys. Great service all week from them!! While we were at dinner, "Baby Hall" started to act up and Heather told Alyssa and I to put our hands on her belly. As soon as we did, Baby kicked with all her might. We both felt it good that time. After dinner, we went and checked out everyone else's room. After seeing their rooms, I see why ours was called "Superior." Talk about small. And Leslie and Dale had 4 in their room. After all that, we all headed to our rooms for our first night's sleep on the ship.
Tuesday, 28 Mar: Cococay, Bahamas
Wednesday, 29 Mar: Nassau, Bahamas